Mercoledì, 04 Ottobre 2017 21:35
2377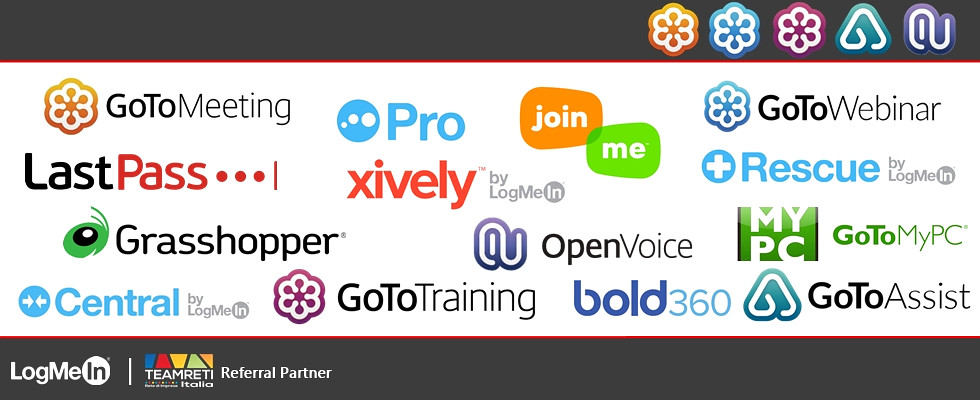 Da oltre 20 anni, le soluzioni GoTo Business hanno rivoluzionato il modo in cui le aziende, i team e le persone si connettono. Milioni di clienti in tutto il mondo utilizzano la nostra suite di prodotti per abbattere le barriere del tempo e della posizione e vivere un modo più umano e intelligente di lavorare.
Communication and collaboration
Our Communications and Collaboration products make it easy to connect quickly and professionally, whether across town or across the globe.

Hold online meetings with up to 100 participants. With GoToMeeting, share screens and collaborate with HD video conferencing. Learn More
joinme. Optimized for real-time, external collaboration, join.me helps boost productivity with dispersed teams, customers, remote workers and vendors. See why 76% of our users agree. Learn more


Marketing pros turn to GoToWebinar to create captivating online events that build brand awareness and help organizations spread their message. Learn more

Enable robust online training in virtual or hybrid situations. GoToTraining gives you in-session collaboration, breakout sessions and detailed analytics to keep attendees involved. Learn more

With Grasshopper, entrepreneurs can run their businesses from their cell phones. Sound more professional, maintain a national presence and stay connected.



OpenVoice conference calling integrates easily with GoToMeeting, GoToWebinar, GoToTraining and join.me sessions – no codes or PINs required. Learn more
Engagement & Support
Our Engagement and Support products deliver unmatched flexibility and security, with tools tailored to help startups to large-scale organizations solve problems and provide better customer experiences.




Rescue Provide remote support that solves every problem seamlessly and securely on PC, Mac, iOS and Android. Rescue is remote support for a world without barriers. Remotely guide end users through troubleshooting, problem resolution, product setup and more with Rescue Lens. See the power of live interactive video.



GoToAssist helps service and support professionals resolve technical issues by delivering instant web-based support to customer, end users, unattended computers and servers. GoToAssist Seeit allows employees and customers to do it all from their smartphone cameras. Learn more



Build better customer experiences with Bold360, an intelligent customer engagement solution that gives agents a 360-degree view of the customer journey.


Xively eliminates costly and ineffective integration solutions, making it easier to build Internet-connected products and helping your company profit from the IoT.


Identity & Access
Our products set the standard for simple and secure access to apps, devices and data, and now are poised to redefine access for a cloud-centric world where an individual's identity, not their device, is at the core of their experience.

Stop wasting time writing down, remembering and resetting passwords. With LastPass one master password rules them all and keeps the rest locked up in a secure vault.


Remotely automate routine IT tasks with Central by LogMeIn, the most powerful tool for accessing and managing remote computers anywhere in the world.


Provide anywhere, anytime access to all your devices, files, applications and information with Pro by LogMeIn, the #1 most reliable remote-access tool on the market.

Deliver instant remote access from anywhere, on any device. Connect to a host computer from any remote computer, iPad, iPhone or Android device with GoToMyPC.
Con Teamreti Italia, Referral Partner di LogMeIn, potrai:
Rivolgere le tue domande A UN ESPERTO

Chiedere una dimostrazione

in diretta e provare GRATUITAMENTE le soluzioni di tuo interesse.
Beneficiare di CONDIZIONI VANTAGGIOSE riservabili ai Clienti del Partner

Contattaci
compila il form e sarai contattato entro 24-48 ore
indica nel campo Note le soluzioni di tuo interesse